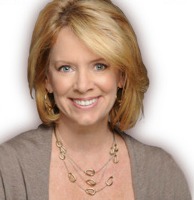 We were delighted to learn that Mary Lou Quinlan was bringing her one woman show, the Godbox, to Laois.   The Godbox story started when Mary Lou discovered messages, left by her her Mum, after she passed away from cancer.  The messages were just notes to herself.  Seemingly mundane things like doctors appointments, reminders for groceries etc.  All the things we take for granted daily.  But these mundane tasks are tinged with sadness when discovered after the event.  It's like a thin thread of connection, between this world and the next.   Every family in Ireland has lost someone to cancer, or knows of someone who is fighting it now.  As many of you know, in our house we had a double whammy, with the passing of Paula and my husband being diagnosed the same year (thankfully now in remission).  So it makes what Mary Lou is doing all the more poignant to me because I've been there.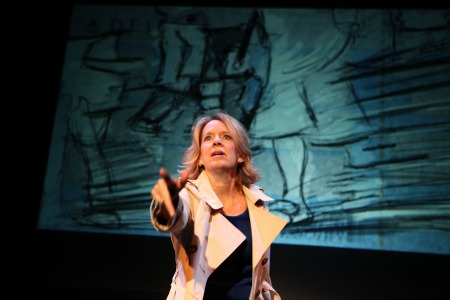 Originally a New York Times bestselling book, this comic and heart wrenching play shares the story of Mary Lou  and her Mum and how Mary Lou discovered the "God Boxes".  These were small containers stuffed with hundreds of tiny notes, written by  her Mum. They revealed her concerns about her kids' demanding careers, to private wishes for people she'd never even met, to concerns about her own health, and everything in between.  The poignant notes, scribbled in supermarket queues, restaurants, and at the kitchen table, were her mother's way of releasing life's worries and hopes. The discovery of these notes triggered Mary Lou's own journey to confront the greatest human challenge – learning to let go.
She has written four books and numerous national magazine articles in the US.  What's so interesting about Mary Lou is that she wasn't always an actress, or even a writer.  Her original life's path led her to become a hugely successful entrepreneur, and widely known in the US for her marketing company, Just Ask a Woman.  She has advised over 100 blue chip companies on marketing to women and was formerly CEO of a large NYC ad agency.  She was even recently named as one of Irish America Magazine's Power 50 Women.  Her Mum's notes led to her completely turning her life around and re-focusing. Mary Lou donates the proceeds of all of her shows to each local Hospice. To date she has raised nearly$400,000.  If you've had to suffer the loss of someone from cancer, you too will know the fantastic work that the hospice do.  How they are a bright light in the darkest hour, how they ease not only the suffering of the one who's about to leave us, but also how they comfort those who are left behind.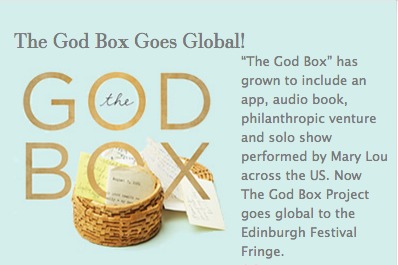 Co-written with Martha Wollner, an award-winning actor/playwright and director of NYC's LAByrinth Theatre, the play has been presented in theatres across the US, including Off-Broadway. In 2014 it enjoyed a 24-night run to rave reviews at the Edinburgh Festival Fringe.  Quinlan has donated all proceeds to hospice, cancer care and education.  Mary Lou will be touring all around Ireland over the next few weeks but we are so thrilled to have this special lady in Laois this Thursday evening, the 13th of October, for what promises to be a moving, funny and endearing account of life.  So we are calling all female entrepreneurs, we really hope that you will be in the audience with us.
Bookings for The God Box: A Daughter's Story at Dunamaise Arts Centre, Portlaoise,  8 p.m, Thursday October 13th are now open and you can get them direct from the Dunamaise on 057 866 3355.