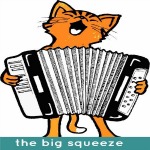 For the past month or so we have been flat our working on The Big Squeeze and last week finally saw the launch of the festival in City Hall, Kilkenny.  The brainchild of Noel Cleere, The Big Squeeze is an international accordion festival with its inaugural event taking place on August 12th – 14th this year.  We have been manning the social media accounts, making connections, dong PR, basically having a ball.  The idea behind the Big Squeeze is to bring together the largest collection of accordion players ever assembled in Ireland.  This hasn't been done before and so, while it's a steep learning curve, the entire organising committee is having great fun attracting top talent into the medieval city for the event.  So far such illustrious artists as Kathy K, Grainne Rynne and Donal Ring Jnr. are all on board.  And it's not just traditional type accordion music either.  The team are determined to demonstrate the wide range of talents this little instrument has.  Did you know that it was played on most Beatles songs for example?  And that Grace Jones is an avid player?  Expect these titbits and more.

Support for event has been amazing with Gay Byrne and Marty Whelan even showing their support.  So we were extremely excited to see the Mayor of Kilkenny, Patrick O'Neill, launch The Big Squeeze in the illustrious surroundings at City Hall, Kilkenny last week. Accordion and music lovers had traveled from Meath, Wexford, Laois, Cork, Fermanagh, Tipperary and Dublin to be there. Everyone agreed that this is something that has huge potential for the area.  The Mayor even took on Topcat (our mascot) at playing a tune.  He's also taken on the 10 minute challenge.  Chairman Noel Cleere is so confident that it's such an easy instrument to play, it can be learned in ten minutes, hence the 10 minute challenge!  Watch this space.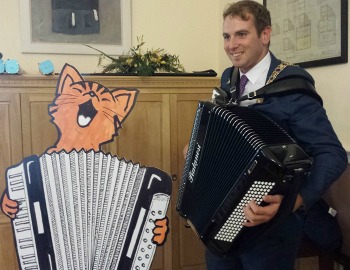 Research has shown that people who learn music early in life demonstrate better academic results, improved concentration, greater self-confidence, higher levels of self-discipline and motivation, improved coordination, creativity and high levels of problem solving skills!  Apart from music festivals in several locations in Kilkenny City, there will also be workshops.  The workshops include "How to look after your accordion", "History of the Accordion", "10 minute challenge" and much more.  Just bring your box and join in. In the meantime, have a listen to Grace Jones and her interpretation of the squeeze box.
P.S. Poor Topcat still hasn't got a name so we are running a competition for tickets over on Facebook for the best name.