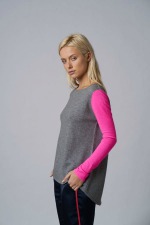 As if the office wasn't exciting enough this week with secretary Kerry, this morning we met up with Irish designer Sian Jacobs.  Sian is possibly one of Dublin's best kept secrets.  So delicious are her designs she was the first Irish designer to be featured on TV3's Xpose's slot on Irish fashion designers.  She has won an award from Pure London and exhibited at Scoop London.  Tucked away in her office are luxurious cashmere designs, in painterly shades, soft to the touch and exquisite on the skin. Knitwear and scarves form the backbone of the collection.  Sian places a huge emphasis on craftsmanship and luxury.  The style is contemporary with clean lines and an edge for the discerning eye.  We can report that it is seriously addictive.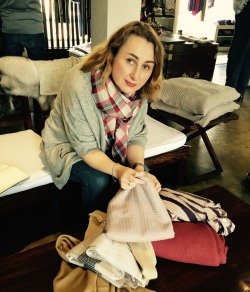 Sian founded her business in 2008.  Armed with a folder of designs and a head full of ideas, she headed to Kathmandu to source people who understood her vision.  A perfectionist to the core she travelled to Kathmandu via Dehli to find artisan producers.  This is the place to go if you want top cashmere and this is not just any cashmere. "The goats come from Mongolia and the cashmere comes from the soft undercoat located on the underside of the neck.  This is why cashmere is more expensive, because so little is produced by each goat" Sian advises.
The cashmere is measured in microns which is 1 millionth of a metre.  The difference in the price point is the quality of cashmere, all jumpers are not created equal! "It's all about the length of the yarn" she says. However expensive cashmere can still bobble, it's all in the caring of the product.  She doesn't recommend dry cleaning your cashmere, as there are so many chemicals involved.  She machine washes everything on a 30 degree delicate cycle.  The bobbles are caused by friction as the yarn has little hooks which form little bobbles.  She also recommends and using a bobble off.  Like any hand crafted piece, when cared for the piece should last six or seven years.
Like all top designers, Sian also offers a repair service.  However, this can take a bit of time so be warned you'll have to do without your favourite piece for a while.  You can buy Sians pieces in select Irish boutiques including Havanna in Donnybrook and the Clothes Room in Harrogate.  You can also shop direct from her website http://sianjacobs.com/collections/all.  She also has a sale on at the moment so it's a perfect time to buy.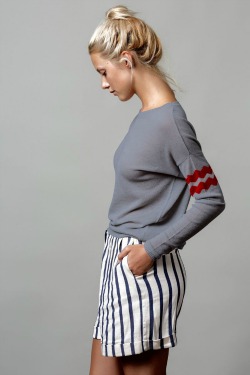 If you'd like to get involved in the fashion business, Sian has a huge opportunity for a part time assistant.  The position is perfect for anyone who is obsessed with the business of fashion in a digital world. "Although there is a strong element of digital there are other opportunities available to the right person".  And what does the perfect person need to have?  "Definitely a strong level of motivation and enthusiasm.  We are looking for an individual full of creative ideas capable of thinking up engaging content that helps us stand out from the crowd".  Preference will be give to those who have a background in Digital Marketing, and who are well versed in social media tools. You must be a self starter. A good working knowledge of SEO, blogging, content creation is key.
Sian's Key skills wish list:
SEO, Google Analytics and Google Adwords.  Content writing, Blogging, Social Media, Direct marketing campaigns, Updating website content, involvement with styling and photography for digital platforms so experience with Photoshop or another image software is a must.
If you think this is you please contact info@sianjacobs.com.  The full job spec can be seen on Sians website.