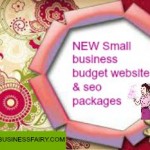 Small Business budget website and SEO packages is a new service that we have introduced for small businesses.  Through our work with many Local Enterprise Offices, we encounter many start ups and early stage businesses that need a website but don't have the budgets of more established businesses.   We developed this product to help alleviate that problem.  We decided to feature one of our clients who availed of the service.  This is a "before and after" article.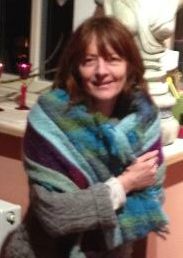 Colette Jackson, of Jackson Rhodes Ireland, is a film/movie costume designer who has now developed her own range of fashion accessories and needed a website to help market her products.  Colette has worked on many famous films.  Stars she has worked with include Colin Farell on Ondine, Tom Hanks on Saving Private Ryan and Peter Bowles on The Irish RM to name a few.
Colettes business is a rural based business, located in the tiny village of Inistioge in County Kilkenny.  Like all small businesses, Colette had a website which we had a look at.   However the title (Design Irish) wasn't doing anything to sell her.  The name implied that it could be a portal for a range of Irish Design products or gifts, not a specialised fashion accessories website.  She didn't have a logo.  We created the logo using wool as the background.  This represents her choice of material and craft.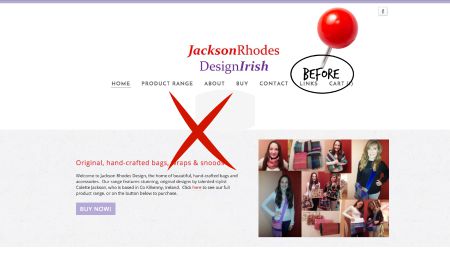 The home page (seen here to the left) had a collage of  poor quality photos which didn't show off her craftsmanship.  Colettes designs are luxuriously made using only top quality 100% Irish wool and velvet.
The "buy now" button was too hard sell on a homepage, and, there was brand dilution with both names "Jackson Rhodes" and "Design Irish".  This Irish Craft and Design website definitely wasn't working as hard as it could be.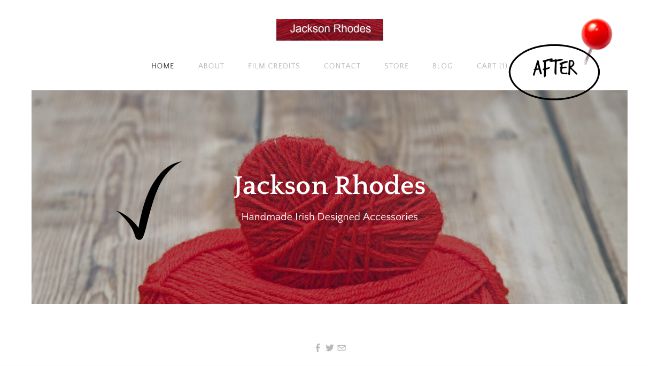 As Colette already had built up a strong reputation in the Irish film world and she wanted to use the name Jackson Rhodes, we set up a new website for her using the new brand name.  The new website address is www.jacksonrhodesireland.com. The new front page design was used as the red ball of wool represents the craft element of the business, whilst the wood floor represents the natural aspects of Colette's chosen materials.
The old site hadn't referred to Colette's background or her extensive film experience so we included this on the new About Us page. We connected the dots on the story from her journey on film sets to her new product range.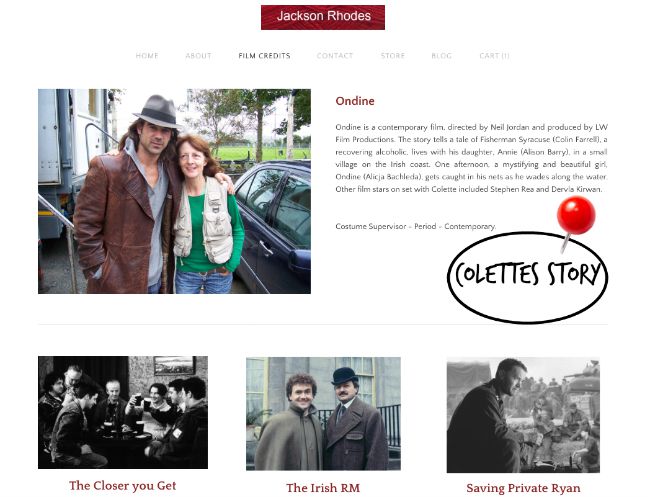 The old website had mentioned her various product lines but the imagery was of poor quality and had focused on her line of bags.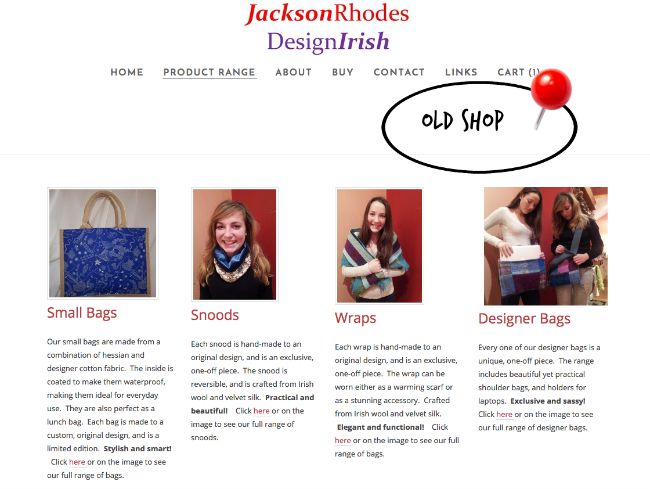 With this new site, we needed to push the range of product lines, which includes Snoods, Scarves and Evening Wraps.  As we didn't have the budget to take photos of the bags we decided to leave them off the website for now, for inclusion at a later date.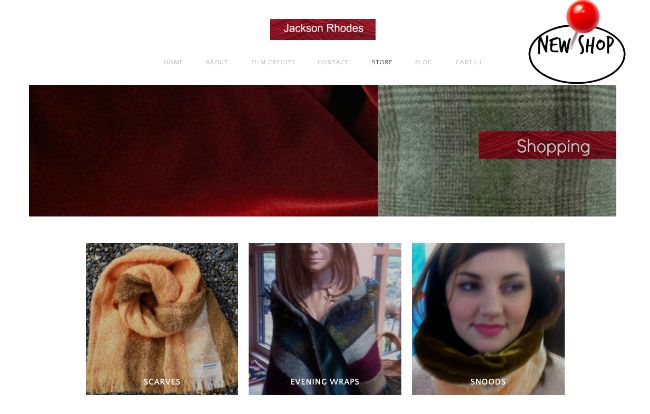 We then connected the site to search engines and optimised it for search.  We also revamped her Facebook page and set up a Twitter account, both of which can be accessed via the website.  The website is overlaid with an easy to use dashboard system.  This makes it easy for Colette to update and tweak over time.  Finally we added a Blog to the site.  As one of the main checks by Google is how recent the website has been updated, this is a crucial element of the design.
The blogpost will document Colette's life at her workshop,  various projects she's developing and working on, together with events and people that inspire her. The banner for the blog was used as we wanted to convey the whole craft and design aspect of the business.  We used the sheep to represent the natural fibres, the type written note represents the "workshop/handmade" element.  The colours were chosen as Jackson Rhodes design fashion accessories from vibrantly coloured fabrics.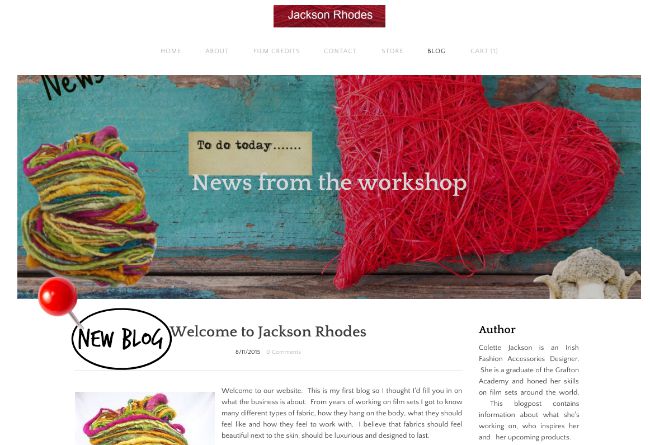 .
Please note that the hosting costs of the website are not included in the package.  This is an extra cost that must be borne by the small business.  Hosting costs and domain name registrations are payable every year, it's like renting an office online for the year.