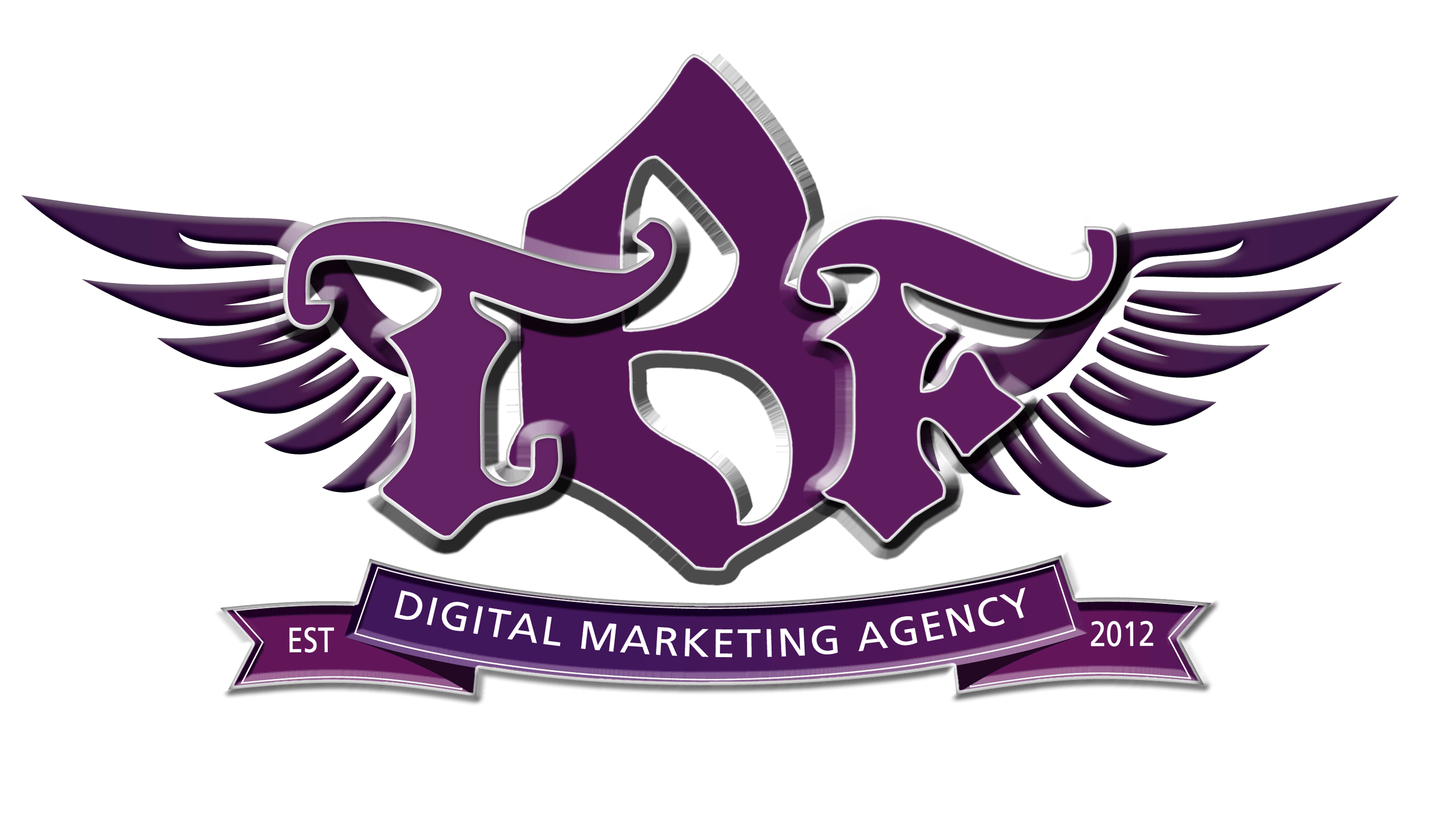 Social Media For Your Business, Which Ones Should You Use?
It's hard to imagine running a successful business without a strong social media presence these days. Your existing and potential customers tend to search for their desired products or services on social media platforms, like Facebook, Twitter, Instagram or Pinterest.
Creating content and taking care of its distribution is a very resource-consuming task. There is nothing less appealing than a social media channel of a brand where you can find random, old photos and outdated information.
Social media is one of the cheapest forms of marketing available, and the ROI it's providing to the business world is growing more and more every day. So it's about time that you tap into it! Customers are actively looking for products or services they need, exchanging opinions about their purchases or looking for excellent customer service. You simply need to be there.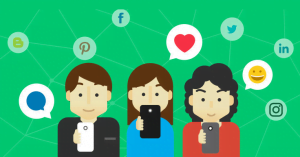 Different Social Media Platforms
Any digital marketing agency will tell you that there are various amounts of social media platforms available to help your business grow. But how do you know which one to choose?  Which one is right for your business?  Each platform draws its own unique audience.  For example, the best social media platform for fashion businesses are Instagram, YouTube, Pinterest.
But the answer to which social media platform to use is always the place where your most important viewers hang out.
Facebook
Facebook is one of the most popular social media sites that businesses use to promote their brand. Interaction with your followers and fan base is very important building brand awareness and loyalty and having fun along the way. If you're a product-based company, one thing you could do is ask your users to send photos of themselves using your product or service in exchange for a shot at a prize, or for the honor of being featured on the page (which seems to be the only prize involved for fans of Skittles).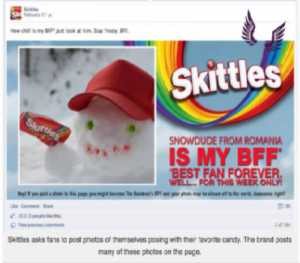 Facebook Messenger
A benefit of using Facebook Messenger for your business is that Facebook has set up 'advertising campaigns', these campaigns are created specifically for Messenger. If someone clicks on your ad, they will be given the option via a prompt to start a conversation with your company. Another benefit to using Facebook Messenger is that it will allow you to create your own personal messages so that you don't need to be sitting waiting for someone to contact you. These automatic responses are known as 'Chatbots' you can find out more about Chatbots on our blogs on our website.
Activision—Call Of Duty
Ahead of the release of its "Call of Duty: Infinite Warfare" video game, Activision launched a Lt. Reyes bot, a character from the upcoming first-person shooter game who would reveal clues about the upcoming release.
In its first 24 hours online, the bot exchanged a whopping 6 million-plus chats with fans, proving to be an effective way to increase engagement and excitement.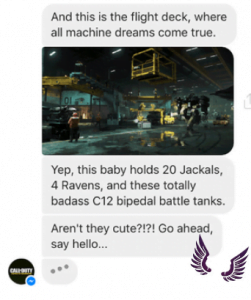 Instagram
Instagram allows you to post images and videos. It is believed that more people remember what they see via videos and images compared to remembering what they heard or read.
One brand that catches your eye with beautiful Instagram content is Airbnb. Whether you're looking for a place to stay on vacation or at home off the beaten path, Airbnb has you covered. This idea is apparent in Airbnb's Instagram account, which highlights some of the most unique lodging sites across the world. The brand pushes an endearing humanistic element that coincides with Airbnb's philosophy of meeting interesting new people and staying in homes you'd never experience with a major hotel. The Instagram account makes you feel like you're in the customer's shoes, which is very deliberate.
In fact, if you see an Airbnb photo you like, the company provides a link to all the locations where the content form. This gives you the opportunity to experience exactly what the Instagram photo brings to life.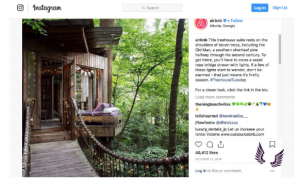 Pinterest
Pinterest is a great platform if your business falls within the creative side of a business. Pinterest is known for its creativity, advertising products as well as tips on how to create something wonderful yourself at home.
Make sure to post regularly as if you are just Pinning products rarely then the site will see this and your Pins will be pushed to the bottom, whereas the more you Pin then the platform sees this and your page will show on the top on searches. Also don't be afraid to go a bit quirky and have some fun boards such as "Fun at work" showing followers that you have a fun side and not just all business.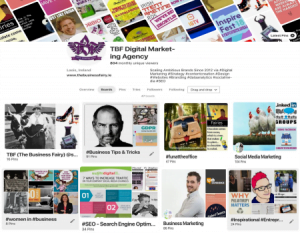 Snapchat
Snapchat figures show that the majority of their users are aged between 18-24 which is a great target audience for many businesses such as make-up companies, clothing companies aimed at the youth of today. Snapchat and Instagram share the same advantage of visual content. This means people are more willing to remember your post as it is an image or a video.
Irish fast fashion giant Primark's Snapchat presence is part of a larger campaign that aims to stimulate their audience to generate content and upload it to a website the brand has set up especially for the campaign.
The brand uses Snapchat and Instagram in similar fashion to upload and showcase styles that their customers have uploaded on primania.com. Followers can also share from their personal accounts by using the #Primania hashtag.
This is a good way to encourage cross-platform engagement and use the strong base a brand has on an established platform—Instagram in this case—to build up its footprint in a new channel.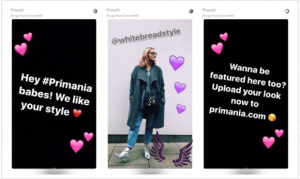 Key Takeaway: This example shows us how a brand can achieve multiple objectives within a single Snapchat campaign:
Primark stimulates engagement by relying on user-generated content for #Primania.

The focus on real people also makes their activity feel more natural and less salesy.
YouTube
When you think of brands on YouTube, you might automatically think of pre-roll ads or sponsored vlogs.
But this is just part of the story. Many big brands now recognise the power of creating an effective video marketing campaign specifically for the platform, with the best examples helping to build brand communities, further engagement across all social channels, and increase sales.
While brands like Adidas use YouTube to target a specific demographic, others, like Tesco, use it to build trust and drive purchases across a large and varied audience.
Tesco has traditionally focused on capturing consumer attention with seasonal campaigns, often centered around popular cultural events like Christmas and Halloween. However, with trust in the brand dwindling in recent years, transferring this strategy to YouTube has allowed Tesco to experiment with short-form video content, aiming to deliver real value on the promise of 'every little helps'.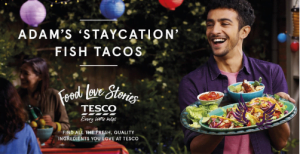 Twitter
When people scroll through their Twitter feed, they're looking for concise, unique content, more than other platforms. People want to see information that is relevant and interesting to them — at lightning speed. In order to catch someone's attention in such a fast-paced environment, it's important to have original creative that's eye-catching. Ever since Twitter made the exciting (and controversial) decision to expand their character limit from 140 characters to a whopping 280 characters, brands have been exploring new ways to make the most of the added space. Twitter implemented the change after discovering that nine percent of tweets in the English language hit the character limit.
Marvel UK and Ireland took the only line spoken by Groot, the beloved character from the movie Guardians of the Galaxy and employed repetition for comedic effect. Now that Twitter allows videos and photos in addition to more characters, the brand was able to put together an eye-catching, fun tweet for fans of the film.
The 280 character tweet received 989 retweets and 1,000 likes, making us all wish that we were Groot.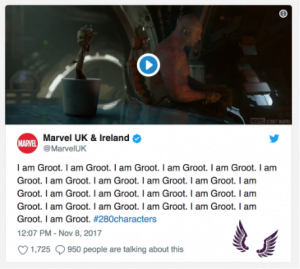 LinkedIn
How do best-in-class organisations use LinkedIn to create demand among top talent and professional consumers?
Brand recognition is part of the equation, but the metrics say it's more than that. Below are a few companies that have all proven effective at engaging LinkedIn's 500+ million users by means of follows, clicks, job applications, and other positive member interactions.
Showcasing your brand's mission and vision. Starbucks does a great job emphasizing the quality and integrity of its brand and products: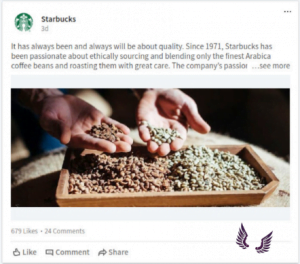 This type of content appeals to job-seekers who want to work for an innovative, forward-thinking brand. It also advances the company's larger mission of carefully crafting its own brand story.
Maintaining an Active Presence
While posting frequency varies from brand to brand, most Top Companies are highly active on LinkedIn. Companies like Salesforce post content throughout the day, publishing on a range of relevant topics. The corporate office recently shared a behind-the-scenes look at the company's Bike Month initiative.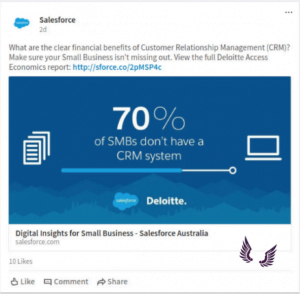 B2B brands tend to be particularly active on LinkedIn, since their content marketing can reach both job-seekers and professional consumers. Deloitte and Cisco are two such Top Companies that post frequently on LinkedIn, providing thought leadership, insights into emerging industry trends, and a glimpse into what it's like for employees.
Google Plus
For content-driven brand awareness, a Google+ profile is proving to be the perfect opportunity to connect with consumers, build traffic, and benefit from SEO.
Christian Dior's Google+ page oozes luxury and exclusivity. It offers behind-the-scenes footage and full fashion reports for followers, ensuring that their readers have first-hand access to new releases.
The language used charms the reader, with phrases like 'see it first', 'just launched' and 'close-up' flashing up frequently. Not only does this allow readers to gain all the latest fashion insights, but brings an intimacy to the brand and reader's relationship.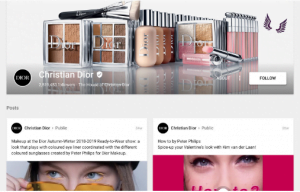 Yelp
Life for retailers, particularly restaurant owners, used to be simpler. That was the life without customer review sites, whereas now, people can poke holes in your customer service efforts. When it comes to promoting a brand in local search, Yelp plays an important role. Yelp, in particular, has become closely intertwined with Amazon's Alexa, which uses it to provide users with information about local businesses. Through voice search, users can ask Alexa for information, like names and contact information for top-rated service providers in their area. On the app, they can then follow up on this query and receive even more information from Yelp, including the number of stars the business has. Are you ready for the voice-search tidal wave? To succeed with Yelp for business, engage on the platform. https://www.yelp.ie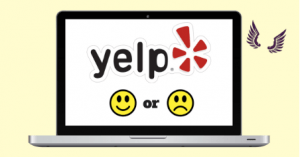 So now the only thing you need to figure out is which platform is going to help your business grow?