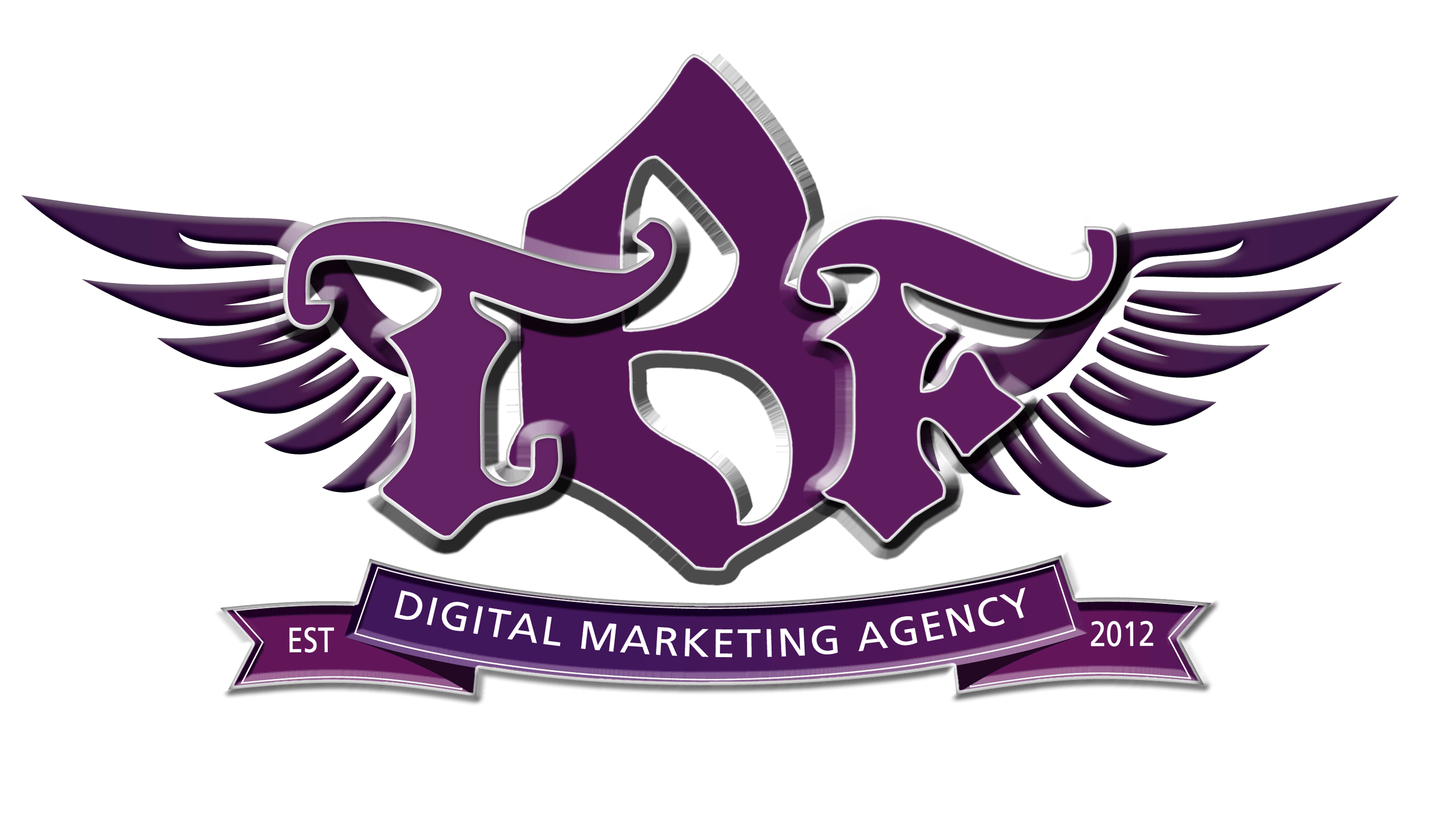 How To Use Depop To Sell Your Crafts
One thing that we're often asked by our clients is how to use Depop to sell your crafts. The Business Fairy has been working with crafters for years to help them sell their products and build a brand, so we know a thing or two about online selling.
Depop is a peer-to-peer social shopping app with most active users located in the United Kingdom, United States and Italy, and has a steady and promising rise of popularity in Ireland. The app provides a mobile marketplace that lets individuals buy and sell their items on iOS and Android platforms. The app has attracted celebrities like Dita Von Tease to open stores, with some celebrities donating proceeds to charitable causes. It's an App that's popularity is rising more and more, especially in Ireland. Although it may be associated with melenials, (most users of the app are females ages 19-26) it's catching on to an older age group too as it popularity rises.  
The app can be especially useful to fashion students or crafters, who want to sell their wares but aren't too confident on knowing where to start. The users of Depop are looking for what this type of person is selling: once off, original goods that no one else will have. The users of Depop are people who aren't as interested in the trends of the high street and want unique garments and accessories that reflect themselves. Does this audience sound suitable to you? Below, we've put together our top tips for the best method of getting your crafts to sell on Depop.
1. Images.
Pictures of the items that you are posting are probably the most important factor in getting sales on Depop. Make that the images of your item are taken in bright, natural daylight. Try to include as many photos as you can in the listing- the more photos you have, the better the buyer can understand the product. If the item is fashion related (Garments are the number one sellers on Depop) then photos of you wearing the item in question are a big plus. They give the buyer a good idea of sizing and fit, and can make a huge difference between someone buying the item or not. Make sure that any photos that you take look really pleasing to the eye. Try to take photos of the item you are selling styled the way that someone might wear it, but don't include photos of you wearing it on a night out or in a group photo- 'pre-loved' or 'vintage' is the look that you are going for, not second hand. If you are selling smaller items like accessories, shoes, or jewellery, you could always make your photo look more appealing by popping in some flowers, a fashion magazine, or some lipstick in the photo. Using some props to style your item can really make a difference and make it more appealing.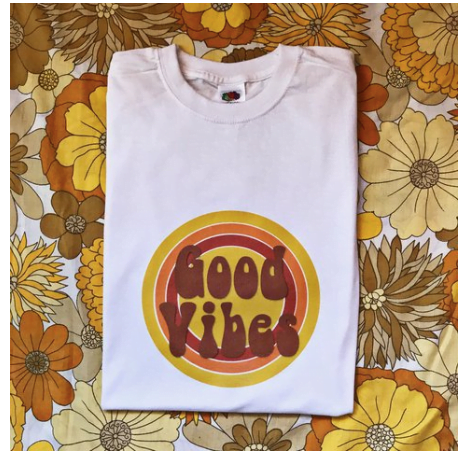 2. Getting your description right.
Always give as detailed a description as possible when listing an item. Make sure to include the items sizing and any other relevant information such as if the piece is vintage, or handmade by you. You could even include one or two styling ideas for the item- show the person that is looking at the item just how passionate you are about the goods you're selling! The more informative the description, the less questions you will have to answer about the item before someone buys it, which can also waste time, and deter the more shy buyer who isn't confident to message you questions.
3. Shipping.
If you are new to selling you items and are unsure about shipping costs, pop into your local post office and ask for some pamphlets on shipping estimates, they're free and really helpful for beginners so that you don't end up underestimating how much the item will cost to ship which will in turn cut into your profits. Try to list both the national and international shipping costs in the items description, to avoid any further questions about it- and any mix ups that may happen later on in the transaction.
4. Discounts.
Offering little discounts and offers here and there can help in building your profile and selling items. An example of this might be to offer a 10% instagram follower discount. Write in your item description and on your Instagram that if they message you on Depop and give their instagram username, and I will apply the discount on the item they wish to purchase. This interests people- no one can resist a discount, and it also directs people over to your instagram profile, which helps increase your follower numbers when you're building a brand.
5. Communication.
Good customer service is essential in all retail situations, but it applies especially to getting a good reputation on Depop. You will find that many of buyers will re-purchase again and again because they had a good experience with you. The key to this is communication – be sure to answer all your messages and comments, and don't wait for more than a week to ship your item to a buyer after they purchase. If there is a delay for some reason (these things happen) then just be sure to let your buyer know in good time so they don't think that you are unreliable.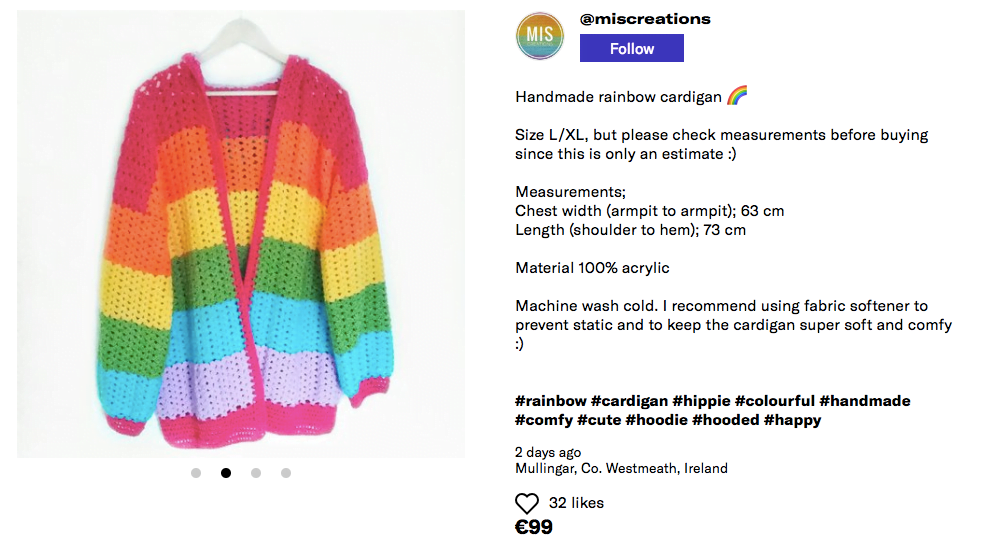 6:  Add a personal touch.
Depop isn't as formal as Amazon or eBay. You will find yourself communicating a lot more with your buyers and it's a much more personal experience. It is nice to add a little handwritten note in with each of your orders. It may just be a few words scribbled on paper thanking the buyer (try to always include their first name) and wishing them well with their purchase. Such a simple touch can really improve someone's buying experience, and you will always get great feedback from it. It's always nice to be nice.
So there, you have it! The Business Fairy's guide on how to use Depop to sell your crafts. If you have any questions about selling or social media marketing, you can email us at info@thebusinessfairy.ie or follow us on the social media pages linked below to see what we're up to.