Video is a major social media and marketing trend in 2018. With all the latest video advances it is no surprise that there has been drastic changes to the content we use to market our business across social media.  Now social media platforms actually support and encourage video.  Facebook has publicly stated that they will rank video as being of higher importance in any posts to the platform.  Their content serving algorithms demonstrate how the social media giant favours video. Facebook, Snapchat, Instagram and Twitter are all investing strongly in video to help generate engagement and build followers for their user base. Have you seen the growing popularity of Instagram stories for example?  They are already outgrowing Snapchat stories in terms of popularity. Whatever your business objective is,  whethe it is creating brand awareness, generation of leads, or conversions, video is the way forward. We have put together some tips below that you can implement in your digital marketing business plan this year. 
Use videos on all Social Media platforms
We have now a mobile first culture and video is the the most popular resource you can use. Users spend more and more time on their phones, surpassing desktop- but the surprising thing is users (especially young people) sacrifice TV time to watch videos on their phone. You need to have a responsive website so videos can be streamed on them, you can learn about that here. Although YouTube remains the most popular video network on the web – Facebook like and Facebook video are definitely worth considering.
Using video will increase your SEO
Videos are a great way to increase your organic search. Google loves video as people will spend more time on your website if you have utilised video. Users find it easier to engage with videos and they are easily shareable. There will be a reduced bounce rate to your site, which means the website will favour well with Google. Also, it would make sense that you are more likely to show up if you have a youtube video embedded on your website (especially when Google now owns YouTube). A great exampled of this can be seen on the nike website.  They have a good introductory video embedded into their landing page.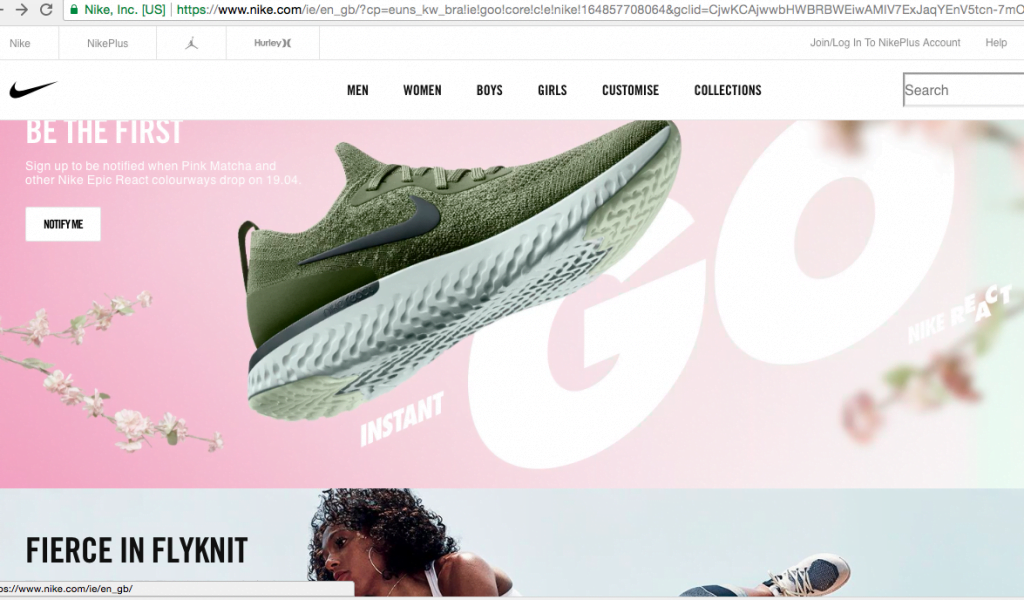 Use Live Facebook Video To Create New and Exciting content.
This trend has taken off dramatically this year.  People love when a business is on air live as it allows them to post comments and questions for you to answer right then and there! To users, video feels more authentic and fosters easy connection with the user- we are visual creates after all! It gives a more authentic humanistic vibe to your business, as you cannot edit and cut out what you say when you are live. (Remember, if you are going live – be prepared, fail to prepare and prepare to fail!).   It also creates an urgency for the user when they get the Facebook notification- as they know they cannot watch it later. Users feel like they are really getting a glimpse into the company in this way – like insiders. Make sure to involve your users by asking questions, or getting them to vote on something! This link will bring you to a live video example – produced by Stephen Amell. He uses questions and answers to get his audience involved!
Capture your audience's attention in the first three seconds!
Users are bombarded with videos on their social media platforms and have the attention span of a goldfish so try your best to grab their attention in the first few seconds. Get your point across as soon as possible. Be authentic and go for something different. Also make sure to appeal to viewers emotions! Another option would be to animate your logo. Below you will see our own animated business fairy, this video is less than 6 seconds long and yet it got almost 15000 views in the first week it was posted on Facebook. 
Square Trend
Did you know that square videos take up 78% more space in the News Feed and mobile feed than landscape videos?  That's why it's hip to be square as it's now the recommended format for Facebook and Instagram.   The square video trend has been very beneficial in increasing engagement with users (plus its cheaper to advertise using square video sizes). Below is an example of the Square format. 
As you can see, Video is a major social media and marketing trend in 2018. At the Business Fairy Digital Marketing Agency we take pride in our video production and we can happily say we are up with all the latest video trends. Video is a must for your business, simply call a member of our team on 085 856 4627, or drop us an email.