Facebook moves to monetise video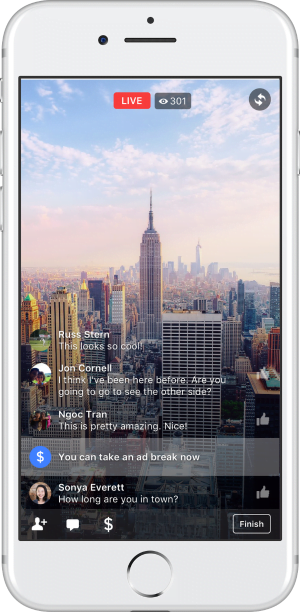 This is huge news from Facebook.  The company is starting to roll out video monetisation. It confirms that consumers are looking at more videos than any other content online. That means that you can now earn money from video ads that are strategically placed within your own videos (this includes uploaded videos and Live broadcasts). This is similar to the YouTube advertising model.  So how does it work, if and when you become eligible?  These are the current limitations:
All eligible publishers can now make money from in-stream video ads on their own websites and apps by utilising the Audience Network.
Plus, Pages or profiles in the United States can qualify to test advertising breaks if they have 2,000 or more followers and have reached 300 or more concurrent viewers in a recent live video.
You can take your first ad break after having been live for at least 4 minutes. You can take additional ad breaks after a minimum of 5 minutes between each break. 
When a broadcaster chooses to take an ad break, people watching the video will see an in-stream ad of up to 15 seconds in length. The broadcaster will earn a share of the resulting ad revenue.
Facebook are expanding the beta testing of Ad Breaks in Facebook Live to additional profiles and Pages in the U.S.
How amazing is that?  Is this not a game changer for business pages?  As normal the setup is fairy standard.  A few screens to fill out including your PayPal or bank details.  You will also have to include your  tax information and confirm agreements, etc.  Nothing exceptional.   you have a bank of videos, Facebook is also testing the ability to go back and retroactively insert ad breaks into pre-existing videos in your Facebook library!  So get creating those videos.  It's never been easier with the excellent standard of cameras on mobile phones now.  All you need is some good lighting and a tripod.
Note: As usual this is on limited roll out for now, but should become more widespread fairly soon.  All great Facebook things seem to start Stateside.  Here is the official Facebook statement:
"TESTING AD BREAKS IN ON-DEMAND VIDEO
We're starting to test the Ad Breaks feature in on-demand video, allowing publishers to insert short ad breaks into videos they upload, or into existing videos in their Facebook libraries. A handful of partners in the U.S. are participating in this test. In the coming months we'll be working with these partners to analyze, learn, and iterate on the early version of this feature. We hope to expand the test to additional partners in the future."